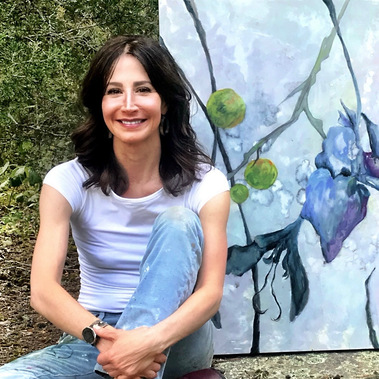 about the artist
When I was nine years old, my grandmother held my hand and told me that you could not kill an iris. She said you could dig an iris bulb up, leave it in a box, and replant it somewhere else years later and it would bloom. I remember studying the beautiful, fragile-looking flower in front of us, wondering how that could possibly be.
I have been interested in the tension between the fragility and resilience of nature ever since. My paintings are a reflection of this fascination, as well as an attempt to touch the things you can't physically touch; memories, dreams, and the interconnectedness of all living things.
I approach painting with the intention of developing a delicately sensuous surface quality. Some works use layers of imagery including observational sketches of nature, old photographs, and drawings from imagination. Some are experimentations involving layers of media - acrylic ink, acrylic paint, and oil. Some works utilize transparent layers to create an overall effect of somewhat ambiguous imagery. Other works emphasize floating images suggestive of the suspension of time. Recent paintings have been done in a predominately blue palette.